Keep your vibe high while you maintain your fresh below.
Wellness starts with the sole.
Choose a new pair of shoes every 3 months through our frictionless sole subscription. Through your subscription, you'll make a connection with the craftspeople who create your kicks and pay a price that compensates them fairly with a minimal markup. It's fair for them, fairer for you and – since we use only local Italian sourced materials and maintain minimal retail real estate – it's fairer for the planet too.

Add only the subscription to your cart and purchase.
SUBSCRIBE TO THE CRAFTED SOLE SOCIETY
4 pairs of handcrafted Italian shoes per year at a fraction of the price shipped every quarter or all at once*

We deliver to your doorstep for free

Choose which sneakers and size you want
You don't have to get them all for yourself - ask us to send you different sizes if you want to share with family members or friends

Pay monthly or yearly for your annual subscription
* if you pay monthly you receive one pair every 3 months. If you want all pairs at once you have to choose the annual payment plan. Monthly payment plan **Delivery starts after the third payment.
The shoe subscription comes with the following benefits:
COMPLIMENTARY CLUB MEMBERSHIP
Enjoy all the benefits that a Crafted Society Membership has to offer
EARLY ACCESS TO NEW PRODUCT
Be the first to have access to new product
ACCESS TO MEMBER ONLY PRODUCT AND SALES
Enjoy members only limited edition products and member only sales.
EXTRA PERSONAL DISCOUNT
Enjoy 40% discount on any other purchases you make.
SHARE DISCOUNT WITH FAMILY AND FRIENDS
Give your family and friends an opportunity to purchase with a discount and let them experience what it is like to be a club member. -terms and conditions apply.
TRY 1 PAIR FIRST OR WANT TO UPGRADE FROM THE CLUB MEMBERSHIP?
Are you new to our shoes and not sure if you want to commit to 4 pairs immediately? Not to worry. Just let us know if you want to have your first pair or club membership transferred into a shoe subscription and we will help you out.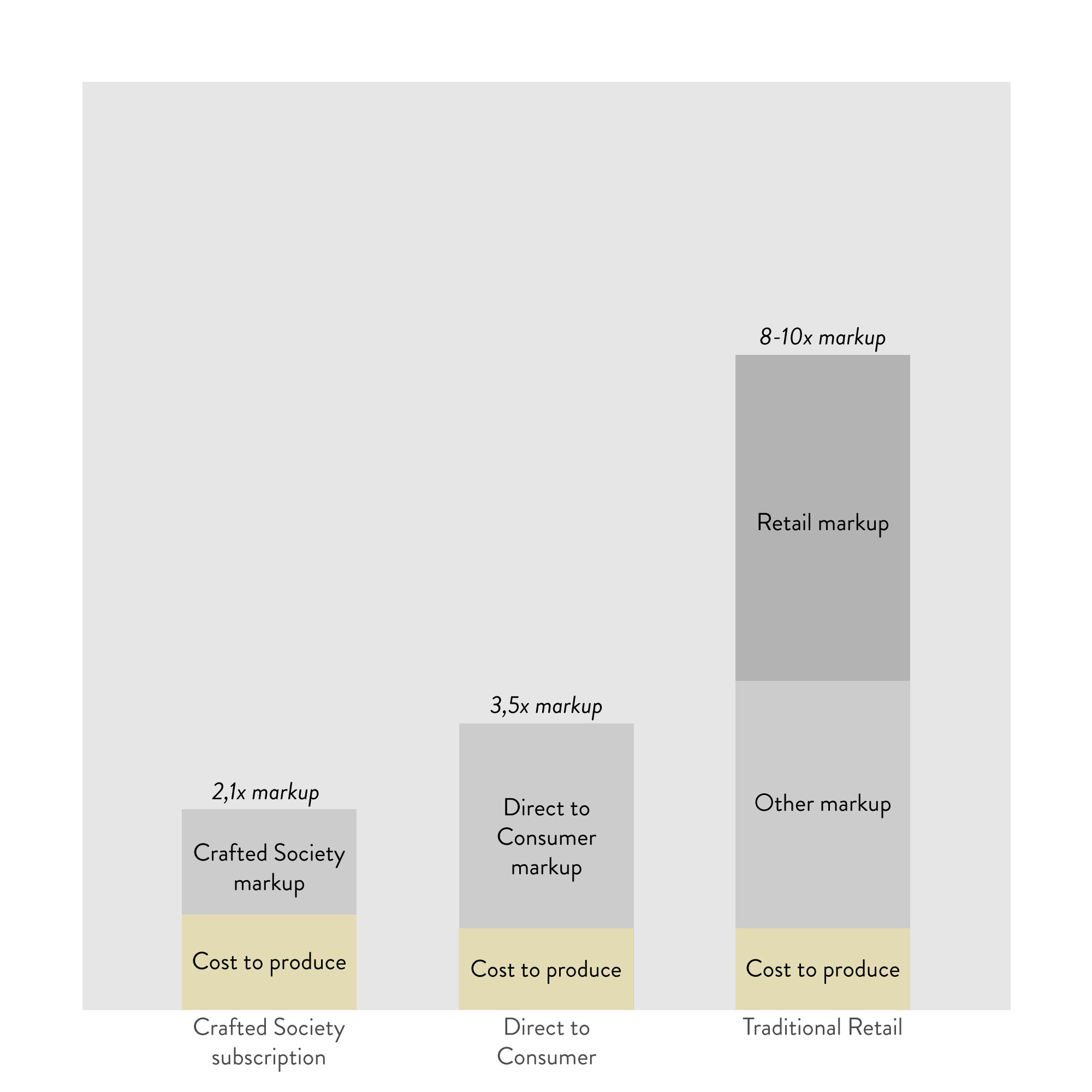 Traditional (luxury) brands mark up their products between 8-10 times their cost price. Not us. We decided from the start that we would cut out any unnecessary margins. Now we are ready to revolutionise and truly democratise luxury with our new Subscriptions bringing our customers even closer to the Artisan and to factory pricing. How exciting is that!
Why is our Cost to produce higher than other brands? Well, we design the products we would like to wear ourselves, 100% sourced and crafted in Italy. This means we invest more on the best quality leathers, detailing, insoles, lining and other materials. We also make sure that all the components originate within our artisans local region to significantly reduce our carbon footprint. Even our shoeboxes come from a small artisan workshop within bicycle distance from our footwear factories.
HIGHLIGHTING OUR ARTISANS
"Love these fabulous shoes!
Superior quality and craftsmanship.
The shoes are comfortable, durable and stylish. I own six different colors and wear them for work and fun!"
"Mario Low Sneaker
A pleasure, that's what it is to wear these sneakers. Heaven for your feet. As a true fan of the brand I just had to get them in this beautiful color style 'olive'. Thanks!"

WANT TO KNOW MORE ABOUT OUR SUBSCRIPTIONS?