SUBSCRIBE TO THE CRAFTED SOCIETY CLUB

We're shaking up the world of luxury with a world-first subscription model that places the craftspeople that create the product back where they belong – at the heart of the story. Your subscription enables us to invest in their future, ensuring their skills don't just survive, but thrive – all while offering you the world's best quality for close-to factory prices.

THE HIGHEST QUALITY FOR THE FAIREST PRICE

Our subscription model enables us to offer luxury product made in Italy at minimal markup, bringing prices close to factory levels while ensuring the artisans who create the products are fairly paid. Your Crafted Society subscription grants you access to all product with a 40% discount, plus a number of other member benefits.

Add only the subscription in your cart and purchase
Shop with your 40% discount
40% personal discount on the entire collection all year round

Early access to new product that is not available yet

Pay for your annual subscription monthly or yearly
Exclusive access to members only product

Share discount with family and friends - let them experience the joy of being a club member

Terms and conditions apply
Already a Crafted Society Club member and want to upgrade to a Sole Society subscription?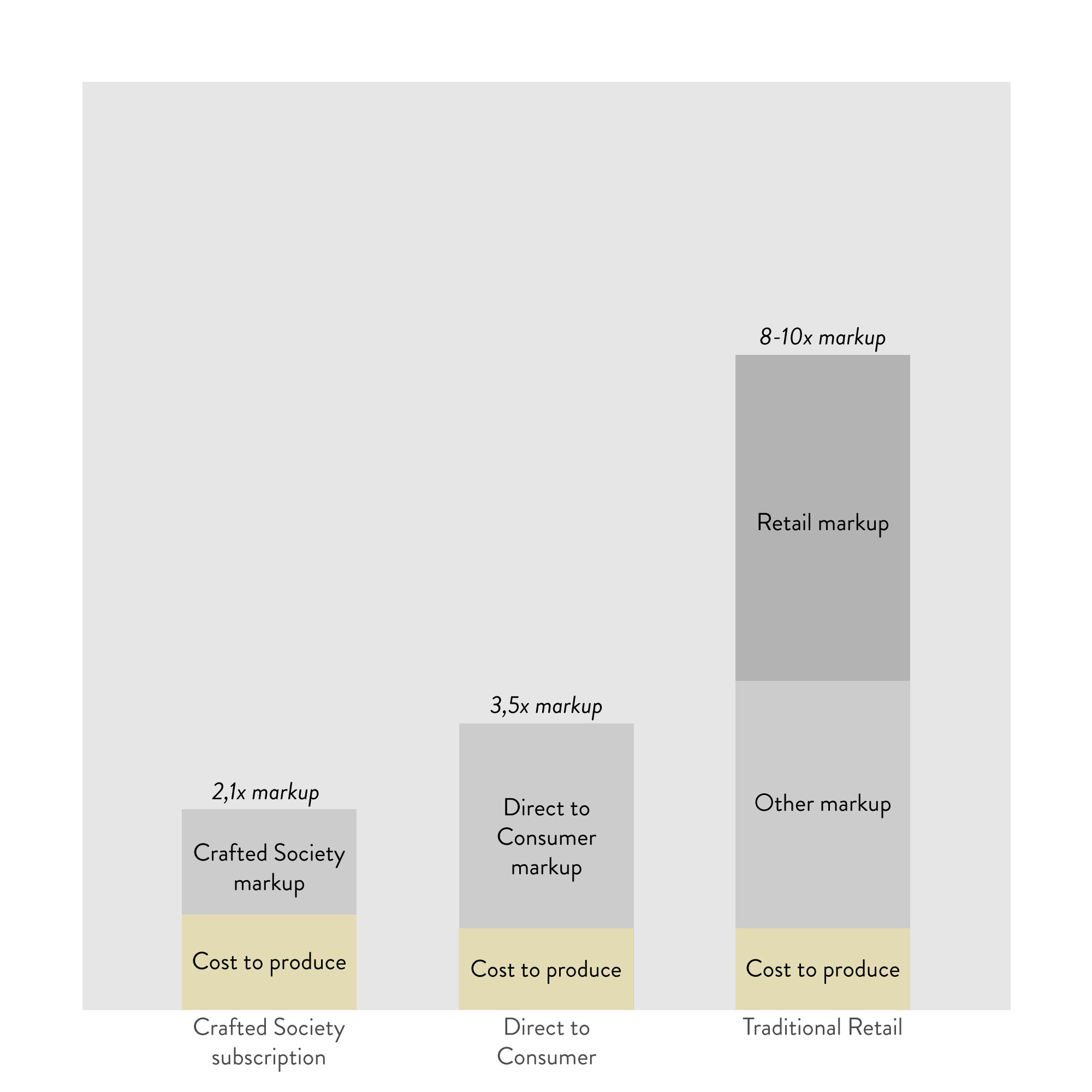 Traditional (luxury) brands mark up their products between 8-10 times their cost price. Not us. We decided from the start that we would cut out any unnecessary margins. Now we are ready to revolutionise and truly democratise luxury with our new Subscriptions bringing our customers even closer to the Artisan and to factory pricing. How exciting is that!
Why is our Cost to produce higher than other brands? Well, we design the products we would like to wear ourselves, 100% sourced and crafted in Italy. This means we invest more on the best quality leathers, detailing, insoles, lining and other materials. We also make sure that all the components originate within our artisans local region to significantly reduce our carbon footprint. Even our shoeboxes come from a small artisan workshop within bicycle distance from our footwear factories.
"Being a scarf addict I can truly say, this is the perfect one. The incredible softness, the ideal length and the beautiful colours make this my go-to-scarf, all year around."
"Fantastic shoes. Fantastic people. Business as a force for good! Superb customer service, this team really go the extra mile and fully represent their brand, the ethics and ideals they espouse.

LOVING YOUR SHOES? CHECK OUT OUR CRAFTED SOLE SOCIETY
WANT TO KNOW MORE ABOUT OUR SUBSCRIPTIONS?